Fancy Filaments – A Look At 4 Decorative Filaments
A couple of weeks ago I tested a few filaments to see which gave the strongest 3D prints. That was a nice practical test, which I always enjoy, but today I'm doing something a little different. This time let's have a look at some more decorative filaments.
Putting our decorative filaments to the test
I've been playing with four PLA-based filaments that aim to be a little more attractive than usual. All four filaments are made by Amolen and came as a four-pack of 225g spools. Three of them are pure PLA – metallic bronze, shining gold and marble effect – while the fourth is a wood-enhanced filament. They were all chosen for their looks; by now I've 3D printed a lot of things in black PLA and white nylon, so I thought it was time to branch out a little.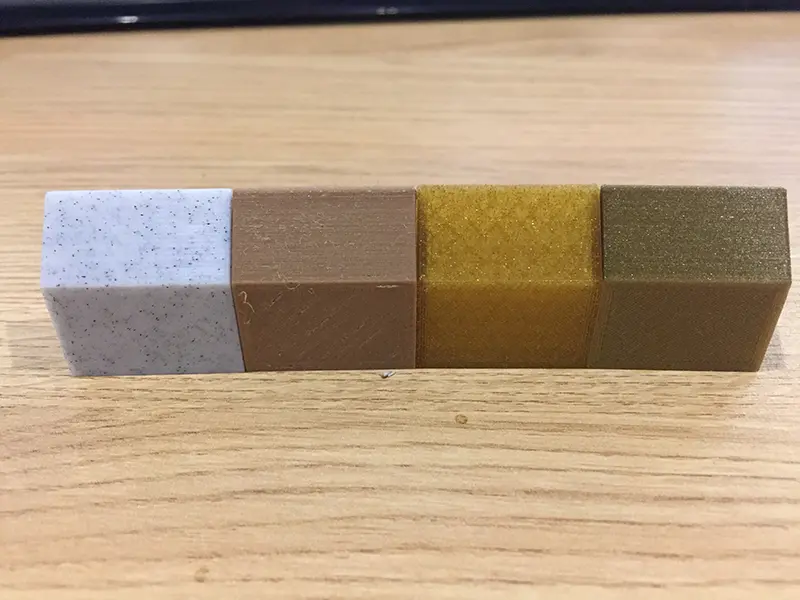 To test each of the decorative filaments I printed two objects. One is a simple block with one side cut away at 45°; this gives an idea of how the filament looks on horizontal, vertical and angled surfaces. The other is a small vase with a spiral pattern, which lets me judge how attractive an object I could actually produce. Let's see how they got on:
Metallic Bronze
This printed easily, and the results on the test wedge were generally good. The flat top surface showed the path of the nozzle quite clearly, with a distinct border and diagonal hatching, but layer lines were faint on the sloped front and almost invisible on the vertical surfaces. It looks like what it is – 3D printed metallic plastic – but a good-quality metallic plastic. It reflects light in a fairly authentic metallic way, and looks as if there are tiny reflective specks in the plastic.
The vase I printed from this came out looking very good. The design makes the material look less blingy; the spiral ridges shadow most of the body, making it look darker, and the ridges themselves show up as highlights. Layer lines are invisible on the outside and the next best thing to it inside.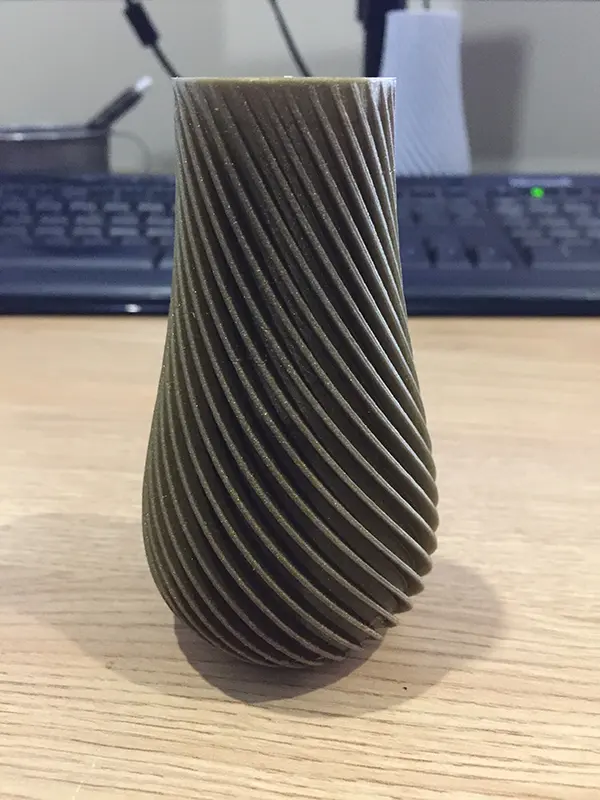 Shining gold
I'd expected this to be another metallic filament, similar to the bronze, but it's actually quite different. It's a gold(ish) semi-translucent PLA with tiny flakes of gold glitter in it. Despite the glitter it printed well. Layer lines are a little more obvious than with the bronze, but the print path on top is less so. The glitter gives it a surprisingly subtle goldy sparkle. Interestingly, it's translucent enough that the infill structure can be seen through the outer shell; that effect could be exploited to make some very nice sculptures.
My gold vase came out looking like coloured glass with a scattering of reflective highlights. That was a pleasant surprise, because I expected sparkly plastic.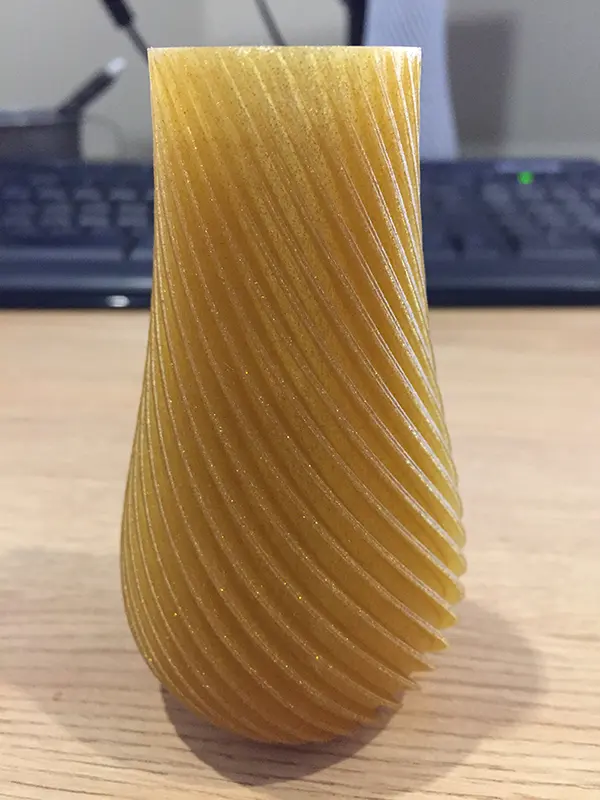 Marble
My marble test wedge turned out very nicely indeed. You have to look really closely to tell it's plastic; from any distance it really does look like… well, not marble exactly, but pale granite. The subtle pattern makes the already faint layer lines vanish, and the overall effect of this filament is very classy.
After the wedge, I wasn't surprised that the marble made a nice vase too. In fact it was nice enough that I used most of the rest of the spool printing a larger one for my mother. She was even more impressed than I was.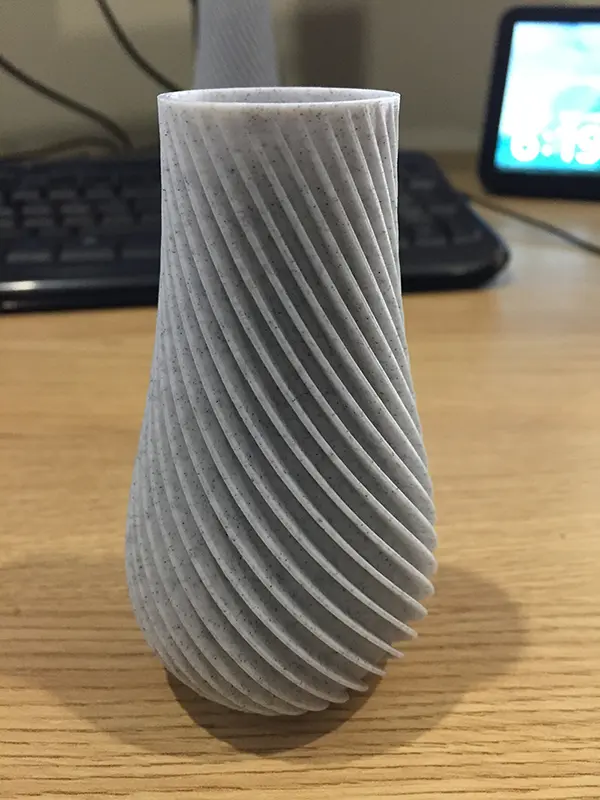 Wood
Finally, there was the wood filament. This is light brown PLA with 20% wood added – basically, it's mixed with sawdust. I'll be doing a full post on this filament soon, because there were a couple of things I wanted to try with it, but for now let's stick with the basics. The wedge I printed with it didn't look particularly wooden, but it was tidy enough. All the surfaces were nice and clean, and it has a matt finish that's actually quite attractive.
The vase worked out very well indeed. It doesn't really look wooden either, but it certainly doesn't look very plastic. The closest I can think of is a very fine-grained sandstone.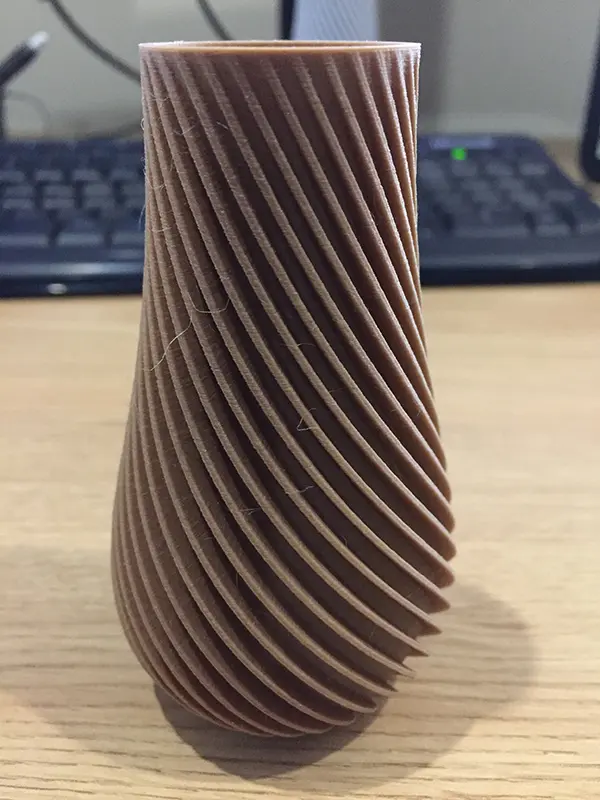 The Verdict
I was impressed with all of these decorative filaments, but the marble and wood were the winners in terms of how nice a vase I could turn out. They all printed well, at least for these relatively simple shapes, and none of them caused any printer issues that I can see. If you want to 3D print objects where looks matter, and PLA is a suitable material, these Amolen filaments will do the job very nicely. Come back soon for more on the wood filament!