What Am I 3D Printing This Month?
I talk quite a lot about our Ender 3, because it's sort of become the focus of my 3D printing activity. Of course, mostly what I talk about is what upgrades I've made to it and how I've fixed various problems that have appeared as I test its capabilities. One thing I don't go into a lot of detail about is what I actually make with the thing.
Well, I make a lot of things with it. The 3D printer is a hobby, and an ongoing upgrade project – but it's also become one of the handiest things in my toolbox. If I need some small or unusual item I don't search eBay anymore, or look around for something I can adapt; I'll either have a look on Thingiverse or fire up FreeCAD and design something I can 3D print. Here's a selection of things I've made over the last couple of weeks.
Tiny Containers
I've built up quite a collection of screws, nuts, bolts and electrical components over the last few months, and it's always a challenge finding things to keep them in. Most of them come in little plastic bags that soon get frayed and fall apart. I've picked up a few small plastic spice containers to hold some of them, but recently Thingiverse contributed these tiny printable jars that take standard Coke bottle caps. As I usually have a couple of Coke bottles in the recycling, I thought I'd print some.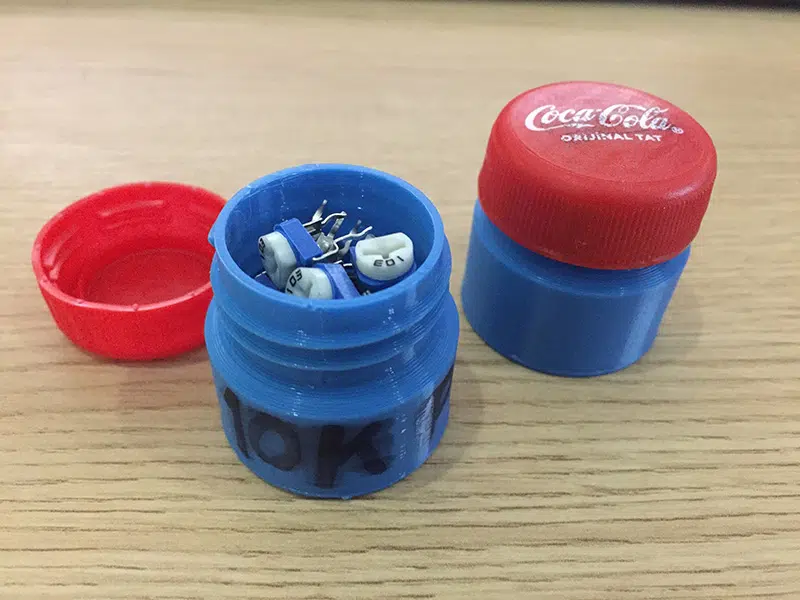 Solder Holder
One of these days I really need to get a fancy soldering station. Right now I just have a bog standard soldering iron that came with a cheap stamped metal stand. I improved it a little by designing and printing a bobbin for a spool of solder to sit on. This is screwed to one end of an arm, and the other end of the arm goes over the same bolt that holds the wire stand to the base. Now I always know where my solder is.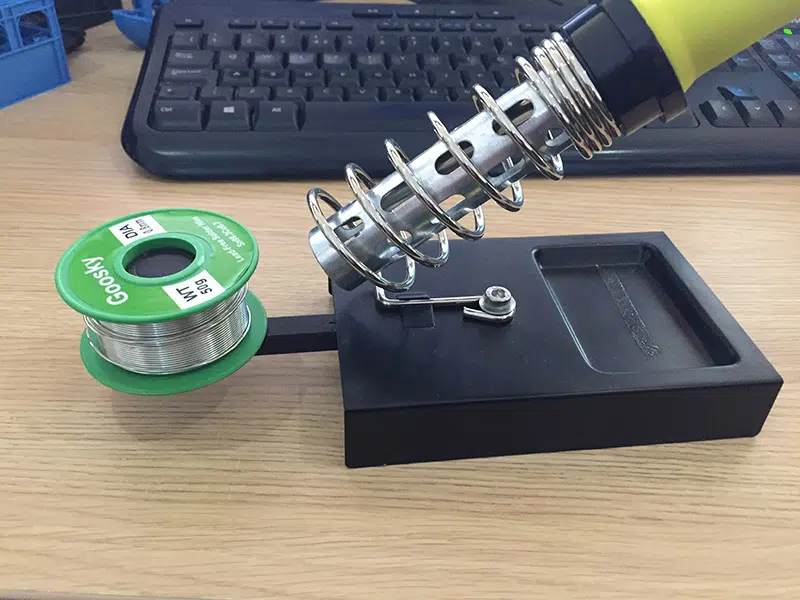 Battery Crates
I buy a lot of AA and AAA batteries, usually in multipacks of twelve or 20. They always come in a blister pack, which is cunningly designed so that no matter how carefully you open it to take out two batteries, the moment you put it in a drawer or box it will fall apart, spewing loose batteries everywhere.
Happily, that problem is no more. A couple of neat little battery crates from Thingiverse have solved my battery storage problem, and they look quite amusing too.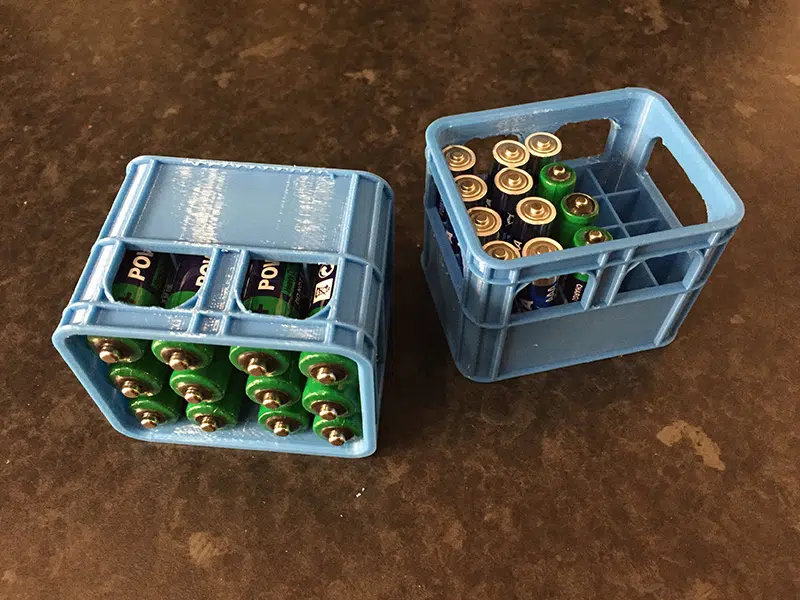 Plate Rack
For some reason my kitchen cupboards aren't deep enough to hold my dinner plates, and I have to stand them up vertically. The problem with this is that they have a nasty habit of sliding out the cupboard when I open the door. In my bad old pre-3D printing days I would probably have solved this by screwing a strip of wood to the shelf. Now I've designed a simple rack with four slots in it for my plates to rest in. It's held to the shelf with double-sided tape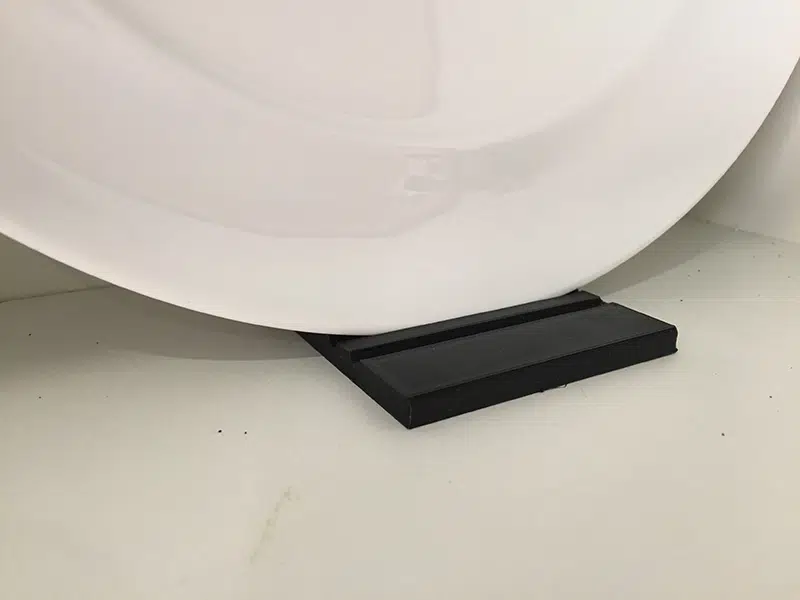 Lamp Holder
I wanted to mount a desk lamp on an arrow rack in my living room, so I could use it for reading. This lamp usually sits on a cast iron base, which has a hole for a simple stud at the base of the lamp's arm. All I had to do was design a cylindrical socket that would take the stud, then add a backplate with screw holes. Print it out, screw it to the side of the rack, and I now have a fully adjustable reading lamp right behind my favourite chair.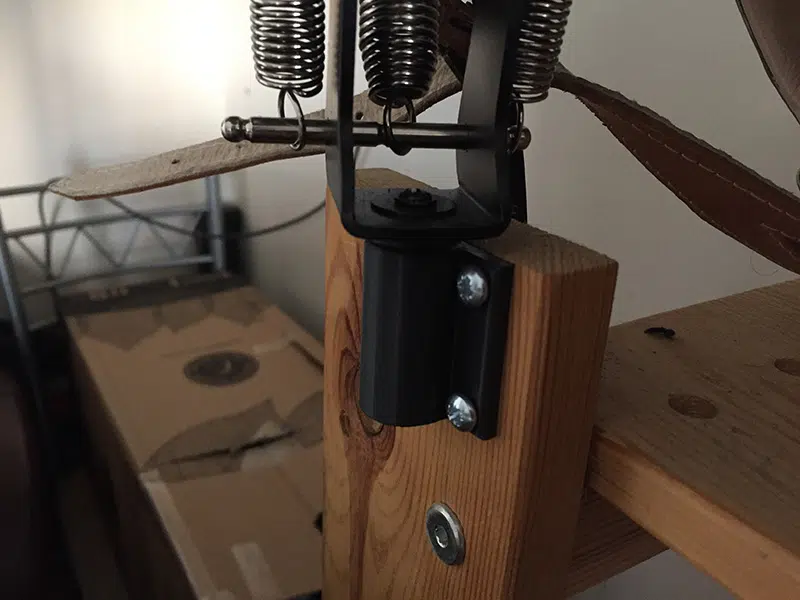 Spoon Catcher
I have a little wire basket that sits on my draining board and holds cutlery. It's very good at keeping things neat and tidy, except for teaspoons. Through some quirk of size and spacing, teaspoons were forever sliding between the strands of wire and getting awkwardly jammed. A simple slotted, 3D-printed basket solved that very efficiently.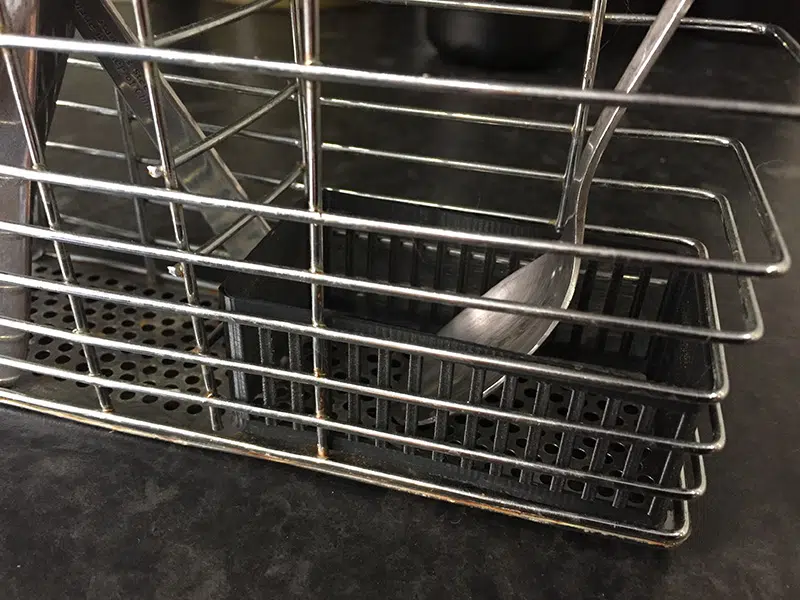 Memory Card Organiser
And one last Thing from Thingiverse – a handy place to put memory cards and USB drives. A sort of storage store. This has slots that hold the TF cards I use for my 3D printers, the SD cards for my digital and video cameras, and an assortment of USB memory sticks and dongles. A piece of double-sided tape means it stays on the base of one of my monitors, and rummaging in drawers for TF cards is now a thing of the past.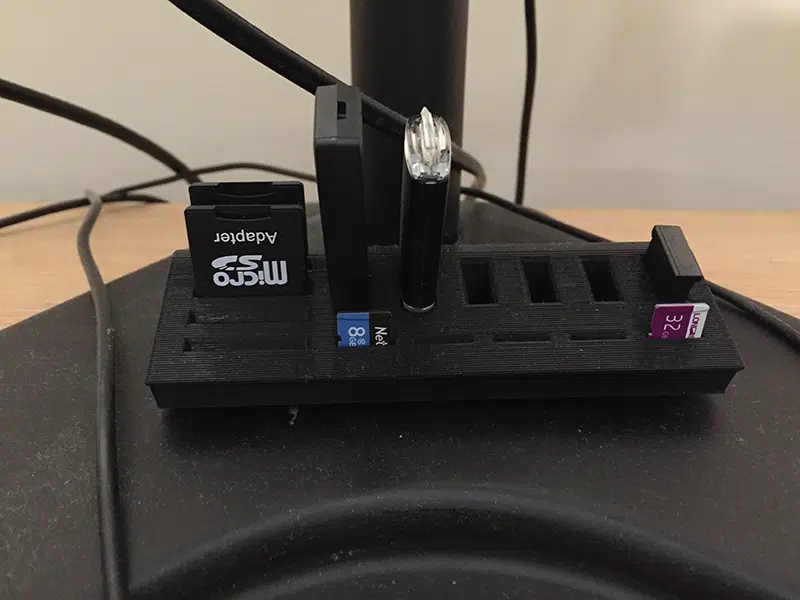 There's no doubt, 3D printers are great fun to tinker with (and very good at making new parts for themselves). They're also genuinely useful to have around, though. I've saved myself a lot of time and effort the last few months because I'm now able to quickly design and make small objects to solve common household problems. 3D printing is a hobby that has the bonus of actually making life easier.